Zhejiang Wild Wind Pharmaceutical Co., Ltd. was founded in 1996 and is affiliated to Wild Wind Group with a registered capital of 80 million yuan. The company is located in the Beijiang industrial zone ,Geshan Town, Dongyang City, Zhejiang Province, next to Zhuyong Expressway. The production area covers an area of more than 200 acres.
The company is based on the development of pharmaceutical intermediates, and has basically completed the product structure adjustment to the direction of pharmaceutical raw materials and formulation. The company's products are divided into four categories, one is chemical synthesis; the second is API; the third is biopharmaceutical; the fourth is formulation. The company's products are mainly exported. The main products are Methyldopa, Carbidopa, Levodopa 1-hydroxybenzotriazole, etc. Among them, the sales of methyldopa products account for more than 60% of the world market.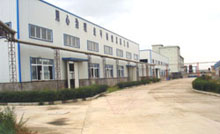 The company has more than 300 employees, of which 35% are senior and intermediate technical titles, and 53% are college graduates. The company has advanced production equipment, perfect public engineering system, complete chemical detection and gas, liquid chromatography, infrared spectrometer and other instruments to meet the production needs of the product.
After more than 20 years of market baptism, Wild Wind Pharmaceutical has formed a team of employees with excellent research and development, production, management and management, and with East China University of Science and Technology, Zhejiang University, Zhejiang University of Technology, Shenyang Chemical Industry Co., Ltd. The institutes, Sichuan University and many other colleges and universities have conducted extensive and close technical cooperation and exchanges. The technical problems of the company's new and old products have been continuously solved with the support of the 搊utside brain? The company always adheres to the management policy of 搎uick response, improving the core competitiveness of the enterprise; deepening the re-engineering and pursuing profit maximization? fully implementing the GMP management and quality environmental management system, and promoting the integration of enterprises into the international market. The company has won the honorary title of 揅hina's Best Corporate Image AAA? 揘ational High-tech Enterprise? 揇ongyang City Top 100 Taxpayers?and 揓inhua City Total Quality Management Advanced Unit? The company's two products obtained domestic GMP certificate, Japan PMDA certificate, etc.; In 2018 the company successfully passed the EU EDQM on-site audit.